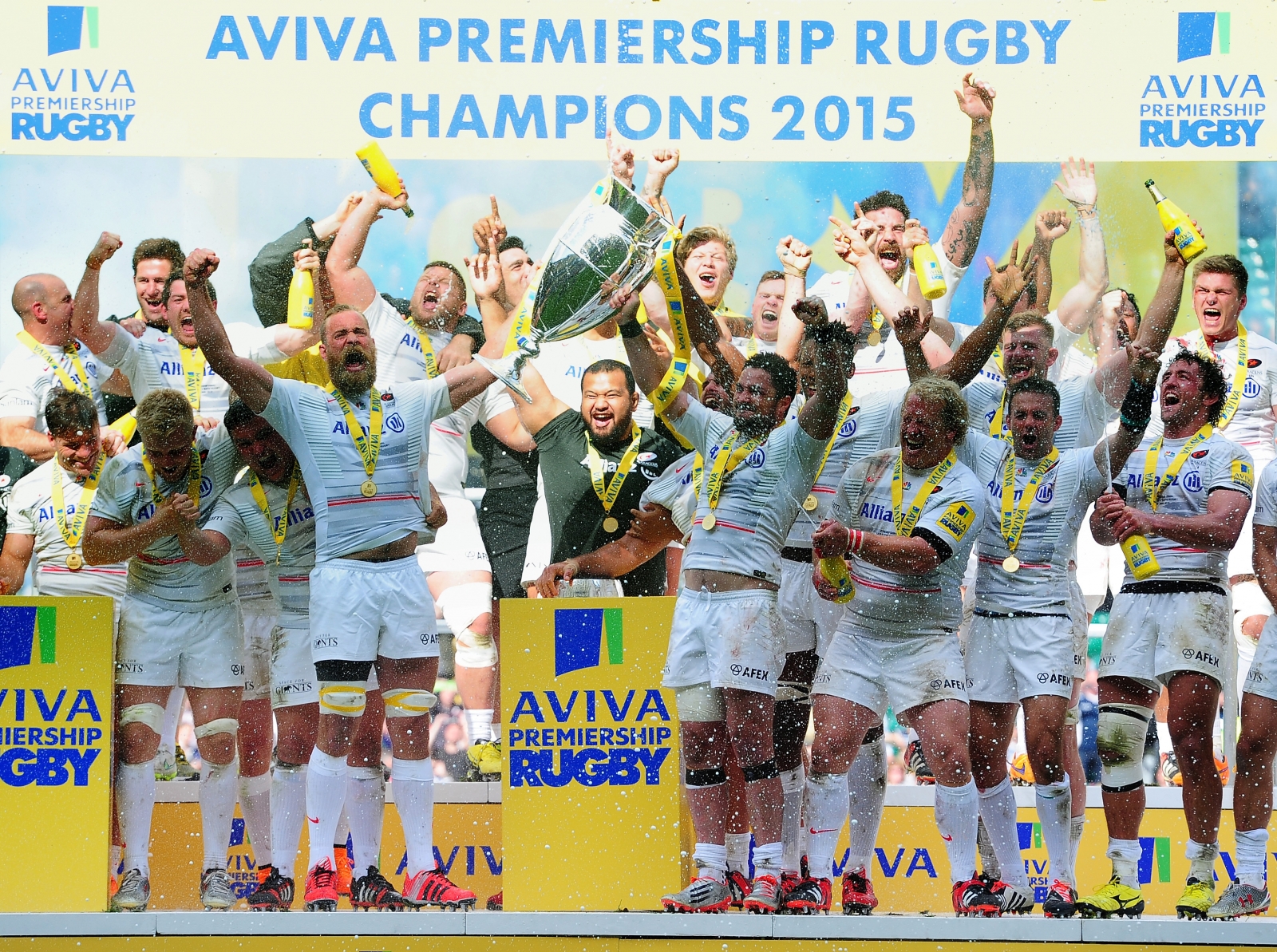 Well, now that the dust has settled, I've had a break and, frankly, there is nothing to watch at the weekends any more, now's the time to take stock for our end of term report card for all the teams in the Aviva Premiership. So who's going home with a gold star and who's being bent over a desk taking 10 lashings? Read on...
NB I should point out that I don't advocate 1930's style caning as appropriate punishment for disobedient children. Hurling books at them is much more effective.
B
ath
Position: 2nd (Runners Up)
Report: This could – and should – be a watershed moment for this young Bath side. With unrelenting panache, pace and style, they have lit up the Premiership with their fluent and exciting brand of rugby. That backline alone has had pundits dribbling in appreciation – not a pretty sight, particularly in Stuart Barnes' case, let me tell you – and to go from 5th place to 2nd is a big step. Their only blips have been where they've been bullied and strangled by the opposition – as they were in the first half of the Final – but that happened a lot less than last year, too.
Star Man: George Ford. He's getting insultingly good now. His vision, timing and acceleration are all second-to-none in Europe, and his game management has taken huge strides too. The real deal.
Next Year: Continue the development curve. The scrum still looks a bit shaky on the loosehead side so Paul 'Wetherspoons bouncer' James will need to be replaced – is Nic Auterac up to the job? The pack in general needs to be able to handle big, nasty packs like Saracens' – a big, nasty number 8 would help. Leroy Houston is a very decent player but he does tend to go missing in the big games.
Report: Well, what the hell do I know. A lot of people, myself included, wrote the Chiefs off this year. Not enough quality brought in, too many "past-its" and kids to force themselves back into the Champions Cup. They showed that up as complete codswallop as they came within a whisker of the playoffs, and did so playing a brand of near-"total rugby", with 'kids' like Henry Slade running the show behind a pack that was increasingly a match for anyone in the league, particularly in terms of carrying.
Star Man: Thomas Waldom. The first two lines above could apply to the Tank Engine, who I thought had his best days behind him. But working with Rob Baxter revitalised the man with 6 chins, and the portly ex-England man was at his energetic, powerful and intelligent best as romped to a record-equalling (for a forward) 16 Premiership tries, one off the highest total ever for a season.
Next Year: Everything I was going to suggest, Rob Baxter has already done. That's why he's a head coach and I'm a part-time blogger. Replacement for Dean Mumm? See Geoff Parling. A Proper openside? Welcome Julian Salvi. It will be interesting to see how young Italian Michele Campagnaro develops, because the only real area that looks a bit thin is outside centre/wing.
Report: A difficult one to measure for the Cherry and Whites. On one hand, the summer signings of big, grumpy forwards seemed to have improved Gloucester's wet flannel of a pack, and they generally seemed more competitive, but they still finished in 9th spot. Of course, a cracking win in the Challenge Cup needs to be applauded – although they missed out on Champions Cup qualification by a whisker in the playoff – but they still seem to break too easily. When they're hot, they're red hot, but it doesn't take too much to make their heads go down.
Star Man: Johnny May. I know, I know, he looks like a rabbit in headlights at times and there are times when you wonder if even he knows where he is going, but that's all forgiven when he produces moments of genius like below on a semi-regular basis. Still wouldn't have him in the England team, though.
Next Year: It's hard to say, because they now have plenty of beef in the pack and pace out wide, but the fluency just isn't there. The team looks very decent in terms of personnel and, although I can't see their new signings adding too much (and Dan Robson's departure is a loss), if they can find that grit that has characterised Gloucester sides in past years, then they should push for a top 6 spot.
Report:
I like Harlequins, and I'm a huge fan of Conor O'Shea, but how the West Londoners managed to escape criticism despite falling from the playoffs last year to outside the Champions Cup spots really does have me scratching my head. Yes, there were moments of razzle-dazzle and they weren't helped by a heap of unfortunate injuries, but these showcased a worrying lack of depth in some departments and, with key players like Danny Care misfiring this year, Quins lacked attacking incision and at times looked just too soft.
Star Man:
Jack Clifford. The young ex-England under 20s skipper enjoyed a breakthrough year, taking advantage of injures to the back row to become one of the few real success stories for Harlequins this season. Athletic and powerful, the long term successor and clone of Nick Easter has been found - despite not sounding like he's just walked off the set of Only Fools and Horses.
Next Year:
Quins desperately need some quality in and power in the centres and they've ticked both those boxes with the rather decent capture of Dr Jamie Roberts. Now if they can just add a top class hooker, tighthead prop and a lock then they may have the snarl to finally give guys like Marland Yarde and Charlie Walker a fair shot.
Position: 3rd (semi-finals)
Report:
There is a chance that some people are will think I'm being a bit harsh on Richard Cockerill's side - after all, any side that misses the majority of its key players throughout the season but still finishes third deserves a decent amount of credit. But still, injuries don't account for the complete and utter abject lack of creativity out wide - a fall from grace for a side that used to top the try scoring charts most years but this season were second from bottom, only to London Welsh. They used to be a pleasure to watch, but at times it was as enjoyable as watching a turd in a microwave.
Star Man:
Tom Youngs. The England hooker may have spent a solid proportion of the season injured but upon return he has been a bundle of energy. Reliable in the lineout, the man blessed with the physique of a geometrically perfect square gets through more work than anyone in attack and defence and was a rallying point for his side throughout.
Next Year:
I
'll be doing a full inquiry into the failings of the Tigers in due course, but the arrival of Aaron Mauger as a head coach should finally breathe some life into a talented but badly-coached backline. The introduction of Opeti Fonua at number eight will be worth a watch as well, as will Brendan O'Connor - the man charged with filling Julian Salvi's boots.
Report:
It's a slow rebuilding process at Irish since the majority of their prized assets seemed to be stolen away from them a couple of summers ago, but some smart recruits have seen a decent season of rebuilding. The likes of Tom Guest added experience and athleticism to a pack which rarely found itself bullied and Shane Geraghty is starting to find some of that form he had when he was last at Irish and one of the hottest prospects in the game.
Star Man:
Alex Lewington. The Leicester Tigers reject enjoyed a breakthrough year as he proved himself to be one of the smartest poachers in the league, running in an impressive 12 tries. Ironically, Leicester couldn't score for love nor money so guess who's laughing now?
Next Year:
In my view, Irish have done some of the best business of any of the sides heading into next year, as the additions of Ben Franks, Sean Maitland and Andy Goode amongst others add real quality and experience to a young side. If they can tighten up their set piece, they could make waves next year...
Report:
Well, perhaps it's mean of me to kick a side when it's down but what more can you say about a side that is, officially, the worst side in Premiership history. Ok, Rotherham also lost all 22 of their games in the top flight 10 years ago but they at least managed to get within a score of the opposition on several occasions - unfortunately for Welsh, their average score was a 46 - 10 defeat, meaning they were humped more often than a particularly attractive leg presented to a particularly randy pack of adolescent dogs. Their main issue - well, one of many - is that they panic bought, partly due to the ridiculous Championship playoff system and partly due to an odd lack of faith in the men that got them promoted. A lack of cohesion between players and the failure of big names to perform, such as Piri Weepu, meant that Welsh were doomed before they started.
S
tar Man:
Opeti Fonua. Well, there were players who probably worked harder than him and I would in no way criticise any player's efforts in that Welsh side, but for sheer impact Fonua stood out. One of the few players to make things happen, even against top teams. It will be interesting to see how the giant fares at Leicester when they get their fitness team onto him.
Next Year:
Bouncing back will be hard, if not impossible for London Welsh. There will be low morale, many of their better players are being snapped up and now there is uncertainty over where they will be playing their home fixtures. They need to rebuild and find some solidarity next year, and not worry too much about the playoffs.
Report:
An 11th place finish after an 11th place finish the season before would not be classed an improvement by many, but those who have watched the Falcons this season will know that they have made big strides this year - playing with ambition, fluidity and precision. There's clearly still some work to do in their execution, since too many narrow defeats badly affected their league position, but with talent like Sinoti Sinoti, Tom Catterick and Will Welch coming to the fore, fans can be pretty pleased with the season just gone and cautiously optimistic about the future. Plus, thanks to Welsh's ineptitude, they weren't in a relegation scrap. Which was nice.
Star Man:
Tom Catterick. It was strange that we were all expecting the battle for the 10 shirt to be between Rory Clegg and Phil Godman, but the emergence of Tom Catterick is a real bonus to the way Falcons play. The youngster has great acceleration, good vision, a sharp pass and a cultured boot - he fits right into the way Newcastle want to play. Dodgy haircut, though.
Next Year:
More of the same really. There's not a huge amount of transfer activity going on - no really big names anyway - although the loss of Kieran Brookes is a big one. If they can tighten up their set piece without him and continue to nurture the talent they have whilst developing their gameplan, the luxury of mid-table obscurity is on the cards.
Position: 1st (semi-finals)
Report:
To be a Saints fan right now is to be very, very gutted. For the vast majority of this season they dominated proceedings at the top of the pile, playing with a power and pace - built on one of the best set-pieces in the country - that most teams couldn't live with; at times, they were unplayable. But Voldemort - sorry - Jim Mallinder's men did look shakey on the odd occasion a team managed to match them physically in the loose and in the set piece (see games against Clermont and Exeter) and injuries to key players like George North and Ben Foden left them vulnerable late on in the season. Saracens needed no second invitation.
Star Man:
Samu Manoa. Good luck replacing this animal, lads. You could probably replace most Chuck Norris jokes with his name and they'd probably, if anything, become more pertinent. He was still the devastating defensive player he always has been but his carrying and fitness improved beyond recognition this season. A colossus.
Next Year:
Smart signings such as Kieran Brookes, Jamie Gibson and Michael Paterson will add more beef to an already brutally efficient pack, but it's difficult to see what other areas obviously need improvement - if everyone is fit, of course. If they can manage that, they can count on another successful year - but with more silverware at the end of it.
Report:
A year of steady, rather than spectacular, improvement for the men from Salford, as they just missed out on a Top 6 place. They are capable of giving any side in the league for their money - especially at home - and with Danny Cipriani lighting up a solid back division behind one of the best turnover packs in the country, they could always pose a threat. But, just like their league position, they're only nearly a genuine contender. Their back division doesn't have quite enough guile or penetration outside the 10 shirt, the pack isn't quite solid enough in the set piece and isn't quite physical enough when playing the top sides. Surprising, considering their coached by a man who constantly looks like he's one sneeze away from starting an all-out brawl.
Star Man:
Danny Cipriani. Right up to last week when he was arrested on suspicion of (but not charged with) drink driving, we hadn't seen Danny in the headlines at all - apart from glowing reports of his on pitch contributions. He still has a box of tricks and the ability to create something out of nothing, but the nuts and bolts of his play - his place and tactical kicking - have also really helped Sale this year.
Next Year:
I have to admit that I can't really see Sale progressing unless they bring in some real quality to inject something extra into key areas, but I haven't seen anything to raise many eyebrows yet. They will continue to push many teams close and the continued development of guys like Mike Haley and Josh Beaumont will be worth watching, but otherwise a season of stagnation may be on the cards.
Position: 4th (Champions)
Report:
This time last year Saracens were in Northampton's shoes - having led the table for what seemed like all season, only to be pipped by a team that finished below them. This time, Sarries timed their form to perfection. At times, through the middle leg of the season, the men in black seemed to be playing within themselves, but when the pressure was on they pulled some brutally efficient performances out of the bag. Their defence is rightly revered as arguably the best in Europe, but their attacking game doesn't get enough credit - they work hard to create space and then they have the speed and brains to exploit it. Their final display against Bath, particularly in the first half, was the perfect example of what Saracens are all about.
Star Man:
Chris Wyles. Guys like Billy Vunipola and Dave Strettle had great seasons and get the headlines, but the American Wyles is probably the most underrated and reliable performers in the league. Solid under the high ball, strong and pretty clinical - touching down for 13 tries in his best season in a black shirt.
Next Year:
Sarries fans have every right to be cheerful - they're Premiership Champions and, with the coming of age of Maro Itoje and Jamie George, the future is very bright. My only concern would be in the back division - nobody has really come in and starred with any threat in that 13 shirt and the loss of Dave Strettle will hurt. Without a couple of class additions, I wonder if they will have enough guile to kick on?
Report:
A rollercoaster season on and off the pitch saw Wasps move to Coventry half way through to widespread criticism and finish the year with the move being heralded as one of the best decisions by a professional club. There's no doubt that from a business side it's the right move, and that increasing optimism has been reflected by some scintillating displays on the pitch that pushed Dai Young's men to within a whisker of a playoff spot. As it turned out, they've had to settle for a top 6 spot but, with their team playing some of the best rugby in the league, and with talents like Joe Simpson, Elliot Daly and Nathan Hughes looking at home on the biggest stage, there's plenty of reasons to be happy as a Wasps fan. Unless you lived next to the ground in Wycombe. In which case the move to Coventry is still probably irking you.
Star Man:
Joe Simpson. To be fair I could have picked any from Daly, Hughes, Haskell and Johnson, but I've gone for the scrum half because he's gone from being written off as a prospect to being arguably the form 9 in the Premiership. His electric pace remains, and his kicking and service are now top drawer on a pretty consistent basis.
Next Year:
What's not to be happy about as a Wasps fan? A great brand of rugby, an impressive new home, a shed load of cash (according to the CEO) and some exciting youngsters (such as Daly or Alex Lozowski) should make next year an exciting one for Wasps. But if they are to kick on and challenge for the title they need a tight 5 that can match the bullies of the Premiership - I don't think they've brought in the players to do it, but let's see how they go.