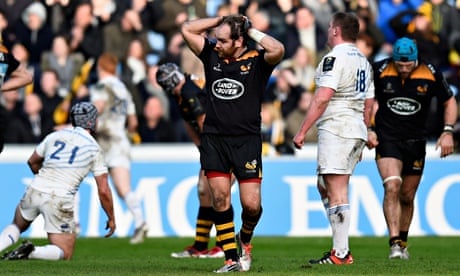 I mentioned in my preview that I felt that this game was the real 'baptism' of Wasps' new home – but I don't think I appreciated how significant this really was.

Several minutes of witnessing 2 Wasps fans engaging in a Guinness-only drinking contest with 4 Leinster-men at 10am in Wasps' new pre-match-party arena confirmed it to me however...Wasps are back in the big time.
I was lucky enough to witness this first hand thanks to BT Sport, who had the good grace to show me all the backstage (and front of house) details of the Ricoh Arena (you can find my article on that on The Rugby Blog), but there was no-denying the real tension in the air.

Here were two clubs that had previously dominated Europe at separate times.

The Irish side, apparently on the wane, against the English club, for whom the only way is back up; a winner-takes-all clash with only a victory carrying a guarantee of progression (although, as it would transpire, there was an "everyone's a winner" scenario).
The significance of a Wasps v Leinster clash was not lost on anyone – least of all Lawrence Dallaglio, who looked as if he wanted to get onto the pitch himself.

When asked what he was looking forward to the most before the game, he rather predictably answered "The battle of the number eights.

Hughes and Heaslip are two of the most athletic guys in the backrow in Europe and they will be wanting the ball in the open spaces as much as possible."

And on Wasps' – given no chance prior to the start of the tournament – chances?

"As long as they start with a bang, I think they can win it".
However, when Dallglio said 'start with a bang', I don't think Dai Young and co would have had Ashley Johnson recklessly wiping out Dave Kearney in the air off the kick off in mind.

It was a clumsy challenge which saw the Ireland winger forced off the pitch, and an apologetic Johnson joined him shortly after, albeit only for 10 minutes.

Down to 14 men, it was hardly the start Wasps were after on this, their biggest stage for some 7 years.
Leinster, despite an impressive showing against the hapless Castres last weekend, have not been at their best this season – but they are still a quality outfit and demonstrated that by taking full advantage early on.

Applying pressure to a Wasps pack playing a man-down, they used two penalty line-outs to march themselves into position before applying relentless pressure to create an overlap for wing Fergus McFadden to exploit, plunging over in the right hand corner.

A fine touchline conversion from Ian Madigan gave the hosts a 7 point lead – but the quality of the kick was to be misleading, as the Leinster-man found his radar on the blink for the rest of the afternoon.
Andy Goode pulled three points back to the delight of his local crowd after Sean Cronin had picked up a loose ball from an offside position, but then Madigan's eventful afternoon continued – missing two gettable penalties, chipping out on the full and then making a searing break...only to ignore the overlap and butcher what looked like a certain try for his side.
But Wasps, simply couldn't get their hands on the ball.

With Luke Fitzgerald causing mayhem in the middle and Heaslip carrying strongly, the men in black found themselves constantly on the back foot, resulting in (finally) another three points from Madigan before Cittadini saw yellow for killing the ball with Leinster creeping towards the Wasps' line.
It didn't help the hosts' cause, with the Leinster pack relishing the monopoly on possession they enjoyed.

Jimmy Gopperth (relieving Madigan of kicking duties) and Andy Goode exchanged 3 pointers before the visitors dealt what appeared to be a hammer blow just before half time.

With Leinster camped on the Wasps line, Isaac Boss (on for the injured Eioan Reddan) and then Gopperth both had darts at the line, with neither being awarded a try – before the TMO intervened and determined that Boss had indeed crossed the line with his attempt a couple of phases earlier.

It was a confusing set of circumstances but Leinster didn't care – thanks to conversion from a re-energised Madigan, they held a 20 – 6 lead at half time – despite losing Kane Douglas to the sin bin for a shoulder charge on Johnson.

Game over?
Not quite.

A year ago I would have pegged Wasps to cop a thrashing in this situation – but something has definitely changed since then.

For starters, James Haskell is captain, and the England man was at the forefront of an immensely physical display from the Wasps pack which clawed them back from the abyss.

This time Wasps did start the half positively, with Tom Varndell haring over in the left hand corner for a try – only for the TMO to rule it out for obstruction by Nathan Hughes.

It was a borderline call, but probably the correct one, given that Hughes is a fairly large obstruction.
Wasps, however, were undeterred, and were spurred on by the sight of Madigan missing yet another chance to extend his side's lead.

They found the Leinster defence, however, hard to break down – even Christian Wade, who had an industrious match, was well-contained by an organised Leinster defence led superbly by Fitzgerald.

However, as much as Leinster enjoyed the lion's share of possession in the first half, it was Wasps turn in the second period.

After Hughes had made a trademark break through the middle, the Wasps pack dragged themselves within range to allow Matt Mullan to wriggle over for a crucial try.

A fine conversion from Andy Goode pulled the hosts back within striking distance – and it didn't take long for them to make their move.
After a poor kick from Gopperth gifted the hosts field position, the Wasps driving lineout kicked into gear, providing the platform for the magnificent Hughes to dive over for an equalising try (after Goode's conversion at the second attempt, thanks to an early Leinster charge) with 10 minutes to play.
The final minutes were played at a frantic pace – Gopperth, so industrious with the ball in hand, swiped a drop goal wide before Madigan (again, dangerous when running) followed suit with a snatched penalty attempt, his fourth miss of the day.

Wasps held firm against the storm, and waited for their chance.

Working themselves into position, Hughes and Johnson made valuable half breaks to give Goode the space he needed – but the former England man, such a hero in Wasps colours this season – shanked his drop goal attempt horribly wide.

The score remained at 20 apiece.
A hushed silence fell over the stadium.

Leinster had qualified, but not in the manner that they would have wanted.

There were positives, to be sure, with O'Driscoll putting Fitzgerald forward as "a real option" for Joe Shmidt in the 13 jersey after a physical display for Leinster.

"He didn't play the spectacular, all dancing game that we know he can produce", said O'Driscoll.

"But he did make telling hits in defence, especially in that second half, took good options and carried strongly.

First and foremost, that's what you want an international centre to do".
And for Leinster as a team?

O'Driscoll thinks more time is needed.

"There are signs that the messages from Matt O'Connor are starting to filter through, but it isn't a quick process.

They have shown in fits and starts how they want to play, but producing it over 80 minutes is the real challenge now".
Very true.

Leinster conceded 14 unanswered points in that second half – partly due to Madigan's kicking, partly due to being physically bullied, which is not something you would expect from a Leinster side.

For Wasps, the heroics of that second half seemed to all be in vain – but, following an agonising wait for the results to come in, the men from Cov (get used to it) have made their first foray into the knockout stages since they won the competition back in 2007, joining Leinster in the quarter finals as one of the best runners-up.
I'm not saying this side is as good as that Dallaglio-led Wasps one was, but all the signs are – on and off the pitch – they are on the right path.

And, thanks to a bit of luck with other results, who knows where that path will end?
Many thanks to BT Sport for the backstage pass at the Ricoh Arena!