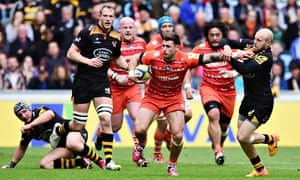 I've watched a few Wasps v Leicester games in my time.

They were usually at the classic old-school rugby theatre that is Welford Road, the slightly run-down but endearing Adams Park or, more often than not, at Twickenham itself.

It therefore felt slightly odd to see the two sides lining up in a shiny, modern stadium where the toilets actually had running water and the food selection ran beyond tooth-breakingly tough miscellaneous meat pies, but would the rugby – particularly in a game of such magnitude which could end either team's title challenge – be any different?
Yes, the players may have changed and the setting was an entirely new one, but within the opening minute of the game it was clear that this was going to be an old-fashioned slug-fest that harked back to those heady days of champions v champions a decade ago.

The intensity was up on your average Premiership game by a good couple of notches, indicative of two old rivals who now have to live next door to one another – although Wasps didn't help themselves by playing "What's new pussycat" by Tom Jones as the visitors ran out onto the pitch.

Mildly amusing?

Sure.

But when a Tiger is backed into a corner, it's generally not the best idea to poke it with a stick.
One of the eye-catching selections in the Tigers' line up had been that of lock Geoff Parling at 6, and the England man played his part in helping his side to pinch a Wasps' lineout in enemy territory and force an offside penalty, which Freddie Burns knocked over for an early lead.

It was a promising, pragmatic start by the Tigers, but they were soon displaying the ambition and accuracy that has been sorely lacking for much of the season, as Tom Youngs then took advantage of a cheeky lineout move to burst down the wing to make big yards, in a small act of revenge for Wasps' own lineout shenanigans in the 2007 Heineken Cup Final.

The visitors maintained their momentum with some physical carries and eventually Niall Morris was given space on the flank to hold off Christian Wade and dive over in the corner.

Burns slammed over the tricky conversion, and Leicester had themselves a dream 10 – 0 start.
Wasps, however, recovered their poise and remembered that this was a game they were expected to win and, after Andy Goode had knocked over a penalty for offside, Alapeti Leiua set off on a mazy run from deep that threatened to unleash the lethal Wasps backline and were only thwarted by some smart covering from Mathew Tait.

It was a rare moment of incision for the hosts, however, who were seeing worrying signs at the breakdown where Julian Salvi and Seremai Bai (in particular) were starting to turnover ball in a regular basis – indeed, it was Salvi's busy work on a kick chase that forced another penalty for Burns to knock over.
The likes of Nathan Hughes and Salosi Tagicakibau were starting to make metres but they found themselves repelled by a furious Leicester defence, where Brad Thorn, Dan Cole and Tom Youngs were weighing in with some brutal hits and, despite 10 minutes in the Leicester 22, they only had another Goode penalty to show for it.

It was a different, and surprising story at the other end, however, as the visitors took the most of their chances.

Thorne punched a hole through Wasps' defence and quick thinking from Ben Youngs and quick hands from Burns gave Niki Goneva the room he needed to dot down for his team's second try.

It went unconverted, but the men in eye-burningly bright orange had an 18 – 6 lead.
Just when you could sense that Wasps fans were becoming a bit depressed at this rather familiar Leicester display, there came the turning point – or, at least, what everyone assumed would be the turning point.

Goode had just added another 3 points and, at a ruck, Hughes was making a nuisance of himself and slowing the ball down – in came Seremaia Bai, a thoroughly nice bloke by all accounts but a man with a pretty sizeable head.

The Fijian international clattered recklessly into the ruck, smashing headfirst into Hughes' noggin and, although Barnes initially gave a yellow card, he upgraded it to red on the advice of the TMO.

Even Leicester fans, and the usually opinionated Richard Cockerill, accepted that this was the correct decision – even if the action was reckless instead of intentional – and, as Goode nudged over another 3 points from the penalty, you got the sense that this was only to be the start of the punishment for the visitors, who went into half-time with an 18 – 12 lead.
As expected, Wasps came out of the blocks after the break and applied all the early pressure, even winning a penalty at the scrum and then in the lineout, areas where Leicester had dominated up until this point.

But, surprisingly for Wasps, they couldn't come away with points – Andy Goode, despite missing a penalty shot at goal, was varying play beautifully but the likes of Wade and Elliot Daly were being kept under lock and key by a resolute Leicester defence, with Salvi seemingly everywhere.

Indeed, whilst Daly may have been cut from the same mould as Tait, it was the older man who was causing havoc back in the 13 shirt after spending most of his time playing full back lately.
When Leicester did get into Wasps' territory, they claimed points through physical pressure and, after Burns and Goode had exchanged penalty goals, the score was 21 – 15 with a quarter of the match remaining.

Then came the good news for the neutral England fans as both Joe Launchbury and Ed Slater made their returns from lengthy injuries, and both had a positive impact – the former straight away with a half break and offload, whilst the latter added to a superb breakdown display which saw his side grab an incredible 15 turnovers.

Leicester were once again indebted to Tait's covering work to avoid conceding their first try, but another Goode kick tightened the scores – the hosts, though, suffered a blow as Joe Simpson injured his knee taking a borderline-late challenge from Goneva.

Despite that, you got the feeling that Wasps were finally reeling the Tigers in.
But not this time.

After another superb Salvi turnover, the Tigers threatened out wide and, after substitute Christian Loamanu had crashed to within a centimetre of the line, the ball was flung wide to Adam Thompstone for the winger to finish well in the corner, taking the score to 26 – 18 with 7 minutes to play.
Wasps threw everything at Leicester in the closing stages, with youngster Alex Lozowski demonstrating impressive cajones with a penalty from half way to bring the hosts to within a score, but they couldn't take the final step; their attack brought to a shuddering halt as Marcos Ayerza thundered into James Haskell, forcing a knock on and confirming a 26 – 21 win for the Tigers.
Yes, some things may be different – such as the venue – and some things even surprising, such as the result (given the form)and the sight of Richard Cockerill in near-tears as the magnitude of the win swept over him.

But some things remain the same – Wasps v Leicester remains an epic, and nobody, and I mean nobody, should write off the Tigers when it comes to the business end of the season.