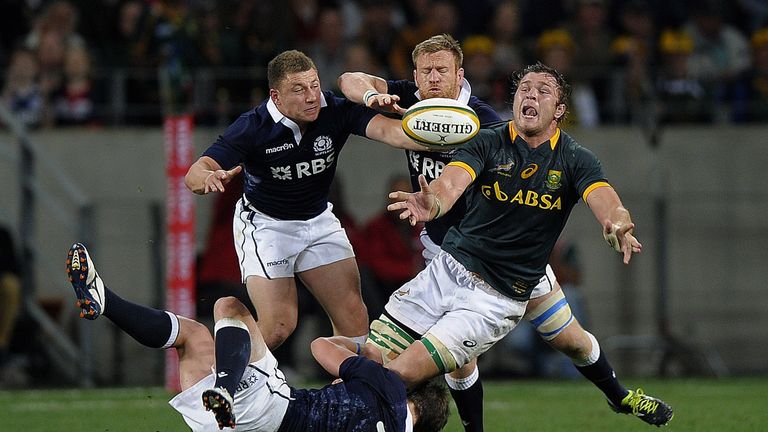 Pool B

Situated right next to the 'Pool of Death', Pool B is a relative sea of tranquility. Well, perhaps in terms of the out-and-out quality and form, anyway. You see it's also a pool packed full of big hitters, with the South Africans, Samoans, and muscular Scots all eyeing quarter final places - but don't write off the USA, who have a certain Samu Manoa in their ranks, and the Japanese will be more than eager to live up to their tag as one of the most improved sides in World Rugby. We might not have as many big names, but the impacts and drama in this pool could make it one of the most interesting and competitive of the tournament...there be choppy waters ahead.


South Africa

Head Coach: Heyneke Meyer. Proper solid-looking South African. No neck and no-nonsense buzzcut. Did incredible things with the Bulls in Super Rugby and is renowned as one of the sharpest tactical minds around too, but international record sees them go from world-beaters to easily-beaten too frequently. In a slump at the moment, with 4 defeats in last 5 games and finishing bottom of the Rugby Championship. Not helped by the shadow of accusations of racism, mostly baseless, around the squad.

Captain: Jean De Villiers. Looks like Skeletor, although the veteran is renowned as one of the hardest but fairest competitors in the global game. No doubt he is a physical, reliable and inspirational figure in the midfield for the Springboks, but after so long out following a horrific knee injury last autumn and a broken jaw on his return, not to mention the good form of Damian de Allende and Jesse Kriel in his absence, will he be guaranteed a starting spot?

Key Player: Francois Louw. I had him as by World Player of the Year a couple of seasons ago - and now he's returned to fitness, he'll need to get back to that form if he's to pull the men in green out of the rut they're currently in. Physical and abrasive, like any good South African forward should be, but is also lethal over the ball and has superb awareness on the carry. Was badly missed in the Rugby Championship.

Watch out for: Jesse Kriel. Breakthrough year for the young Bulls utility back, who obviously shares Heyneke Meyer's barber. Played a lot at 15 for his province but was a rare bright light for the Springboks this Rugby Championship in the 13 shirt, scoring a couple of cracking tries. Sharp acceleration and deceptive strength make him a real handful.

Strengths: Tenacity. The power and aggression of traditional Springbok packs is well known and usually pretty well felt, too, but tenacity has been one of their best assets over the last couple of seasons. Even when outplayed, or under real pressure - such as against Wales at home or against Argentina in Salta in 2014, the Springboks seem to have a gut wrenching ability to keep themselves in games and claw themselves over the line in the final straight. Although that habit hasn't been as obvious in recent games, the experienced players returning from injury have that unwavering self-belief built in and - in a World Cup - that can't be underestimated.

Weaknesses: Match fitness. How's this for a list of top players: Bismarck du Plessis, Louw, Alberts, Vermeulen, du Preez, De Villiers. All potentially key men for the 1995 and 2007 Champs - especially since the list contains arguably the first choice, brutal Springbok backrow - but all are only just back from the treatment table. They will all help to improve South Africa's competitiveness but will they be badly undercooked, or still carrying niggles, by the time the tournament starts? They're in one of the kinder groups, which should afford them some breathing space, but the clock is ticking.

Prospects: After so long loitering around the top 2 in the World Rankings, you'd expect South Africa to be one of the favourites for the trophy. But with some poor performances and results, such as their humbling at home against Argentina, controversy over the ethnic make up of the squad, plus the fact that many of their big names are only just returning, they're really a bit of an unknown quantity this World Cup. They should get through their group without too much panic, but how will they handle the tougher tests after that?
Samoa


Head Coach: Stephen Betham. Colossal unit of a man who probably causes Nandos staff panic-attacks when he walks in for a feed. Has developed a consistency of selection and a coherent game plan, and a team that can consistently competitive against the best - they pushed the All Blacks close on home soil. However, the stats show that Samoa have slipped to 11th in the World Rankings and lost out to Fiji for the Pacific Nations title in both of the last two years.

Captain: Ofisa Treviranus. Experienced London Irish backrower, who fits the archetypal stereotype of the Samoan rugby player to a T - huge, muscular and athletic, with a penchant for introducing his shoulder to opponents' rib cages. A reliable and powerful operator from the back of a scrum.

Key Player: Kahn Fotuali'i. On his day, a first class operator who offers intelligence and physicality from the base of a breakdown. Consistently impresses for Northampton in the 9 shirt and is crucial for Samoa given their preferred tactic of battering away at ten fringes with their huge carriers - his ability to interest defenders with his vision, speed and power can create half-gaps for his runners...and you don't stop a Samoan with an arm tackle.

Watch Out For: Tim Nanai-Williams. Tigers prop Logovi'i Mulipola could make a serious impact given his improved scrummaging and brutal carrying ability, but it's the Chiefs flyer who really has a chance to set the World Cup alight after taking the 'Sevens loophole' route to represent the Islanders. With dazzling feet and electric acceleration, he offers something a bit different in the Samoan midfield or to the 15 shirt (he's versatile, too), which is enough to worry any defence.

Strengths: Physicality. Whether you're defending or attacking, any game against the Samoans is going to hurt. The islands may be tiny in terms of population, but the natural size and athletic ability of the players is second to none in the world, and with that trademark physicality ingrained from such a young age, a big hit is never too far away. No matter who they play, they ruffle feathers, and that can cause problems for anyone.

Weaknesses: Discipline. A sort of by-product of their main strength, the Samoans to have a reputation for throwing their shoulders around - often illegally. Stephen Betham has previously commented that his side often come in for unfair scrutiny - which may be partly true - but the fact is that referees are aware of the reputation for making no-arms or otherwise illegal tackles, and any 50-50 call isn't going to go their way. They could really make waves this World Cup - but that will rely on them keeping 15 men on the field for 80 minutes. They need to be squeaky clean.

Prospects: I thought they were incredibly unlucky in 2011, losing narrowly to South Africa and Wales to miss out on qualification - and probably only losing to the latter because of a their absurdly short turnaround time after their last match. They may have slipped in the rankings this time around, but I think this is their best chance to make the quarter finals since their last appearance in 1995. Corruption and infighting have blighted the Samoan Union for several years, but with a new deal and all parties now happy, Samoan fans have every reason to be optimistic. Throw in the fact that, aside from South Africa, they've beaten every team in their group since 2011, I think this might be the year that they take that next step...at Scotland's expense.


Japan

Coach: Eddie Jones. Good old grumpy Eddie. The lasting image most Englishmen have of Eddie is the Aussie pulling a face like a bulldog chewing a wasp as he accepted his runners up medal in 2003. After a pretty impressive spell as Wallabies coach, though, Jones has been here, there and everywhere - coaching the Reds, Saracens and Japanese club Suntory Sungoliath (yep, that's a real name) before taking the national job in the land of the rising sun. Still one of the best technical coaches about, and has Japan's vast improvement to show for it.

Captain: Michael Leitch. Yes, not the most native-sounding Japanese name, admittedly, but the Fijian-parented, New Zealand-born backrower has lived in Japan since he was 15 and skippered the under 20 side at the junior world championships. Now 26, he's amassed 43 points and an impressive 11 tries for his country, as well as gaining Super Rugby experience with the Chiefs over the last season. A big unit who knows where the line is.

Key Player: Fumiaka Tanaka. The diminutive scrum half is another man with plenty of Super Rugby experience, plying his trade for the Highlanders whilst also holding almost 50 caps for his country, and it's that experience his teammates will be relying on come the World Cup. The Brave Blossoms have a slick backline with the capacity to pull off some slick set piece moves, but none of that will matter if Tanaka can't deal with the pressure his side will be under the breakdown, and continue to provide his backline with quality ball.

Watch Out For: Ayumu Goromaru. Here's a fun fact for you. Who was the most prolific scorer in Test rugby last year? Johnny Sexton? Leigh Halfpenny? Nope. It was Goromaru. OK, if we're being picky, he was playing the likes of the Philippines and Sri Lanka as part of a qualifying campaign that saw Japan score 641 points and concede only 41. Which is good. But the point remains that Goromaru is lethal off the tee and is therefore Japan's not-so-secret weapon - as a young Wales side discovered to their cost in 2013...

Strengths: Momentum. On the surface, everything looks pretty rosey for the Brave Blossoms and they can go into the tournament with realistic hopes of picking up just their second win ever in World Cup history, and their first since 1991. With a booming domestic league, more players plying their trade in top-level competition, an imminent Super Rugby franchise and - of course - their own World Cup in 2019 (despite concerns over the Olympic stadium), there is genuine optimism amongst Japanese supporters that they could be at the start of a very special journey. With a vastly improved scrum, lethal finishers out wide, a flawless qualifying run and impressive wins over Uruguay and Georgia (with a rare blip against USA), it's no wonder that Eddie Jones is not-so-quietly confident that Japan can go home as "the team of the tournament".

Weaknesses: Quality of experience. As mentioned above, it's all very well having a flawless qualifying campaign, but when you're playing teams that Hunstanton Vets would go toe-to-toe with, you can see why it's hard to measure where the team's really at - let alone prepare them for the 'top tier' nations they'll have to face up to over the next 4 weeks. And, although they've got some talented players and look like a much more cohesive unit these days, their pedigree in the tournament is...well...second to everyone, despite qualifying on every occasion - their record stands at 24 played, 21 lost, 2 draws and 1 win, and they're the only team to concede over 1,000 points in the history of the competition, at an average of 48 shipped per game. Ouch.

Prospects: There is no doubt that Japanese rugby is on the way up and I suspect we will be talking about Japan as last-eight contenders in serious terms when they host the tournament in 4 years time. But, although they have beaten Samoa and the USA (regularly) in recent years, Jones' claim that they're targeting a quarter-final this time around is probably unrealistic - too many of their players simply don't have regular experience of playing against top opposition, both domestically and internationally. Jones' other claim - that they're aiming to return home as one of the teams of the tournament - is far more realistic and with, their passion and natural flair, I expect to see the Japanese win the hearts of a lot of neutrals this tournament. I do think, though, that they'll grab that long-awaited win - finally - against the USA, but it'll be mighty close.



Scotland

Coach: Vern Cotter. The word 'intense' was probably invented for him. Square jaw, stunningly shiny scalp and piercing gaze makes him one of the most recognisable coaches in world rugby - and that's before we take his rugby CV into account. Developed Clermont Auvergne into 'unofficially' the best side in Europe for the best part of 4 years and, although he could never get his side the silverware they probably deserved, he was credited with managing the best running-rugby unit in the northern hemisphere. Yet to find his feet with Scotland though - again, lots of promise, no real results.

Captain: Greg Laidlaw. Yes, you could give him a tunic, a wig and a ring, and he'd look like he walked off the set of the hobbit, but the Gloucester 9 is a calming influence at scrum-half, and is a deadly kicker from anywhere within his (admittedly slightly limited) range, like Chris Paterson. Has a knack of making the right calls under pressure, but he'll be aware that he needs to show more urgency to his game - as he started to in the Six Nations - as he comes under pressure from young tyro Sam Hidalgo-Clyne for his starting spot.

Key Player: Richie Gray. Stuart Hogg provides the fizz from the back, but all good Scotland teams are built on a brutally physical pack who refuse to take a backward step. Now big Jim Hamilton has been jettisoned, the kilted warriors will be looking to their blonde bombshell of a lock to recreate his form of two seasons ago, when he was a rampaging behemoth, capable of dragging in several defenders and ruling the lineout. Since his move to Castres, we've seen that form only in sparks, but the Scots need their man firing on all cylinders to get out of this pool - and the same goes for his brother, Jonny.

Look out for: Finn Russell. Finally, someone fit to lace the occasionally brilliant Gregor Townsend's boots. To be frank, in years past, Scotland's backline has been as likely to score as Gordon Brown on an 18-30 holiday, but - along with some top talent outside him, to be fair - Finn Russell has come along and started to light things up. His ability to threaten the gainline and pick the right option makes him a breath of fresh air in attack for Scotland, but his ability to function under pressure will come under scrutiny - his yellow card for a brainless tackle against Wales shows he is still susceptible to creak. It'll be fascinating to see how he deals with it all.

Strengths: Outside backs. If you'd have said to me four years ago that Scotland's best talents were their back three, I would have headbutted you. But, no joke, they have a huge pool of talent emerging on the wings and in the fullback slots - and in the centres as well, although Alex Dunbar's injury means he will be sorely missed. Stuart Hogg is a world class attacker from the back, whilst Sean Maitland and Tommy Seymour (probably first choice wingers) have the pace and strength to be top finishers - and that's without taking the 'flying Dutchman' Tim Visser and the experience Sean Lamont into account. The more Scotland can get the ball into these guys' hands, the more dangerous Scotland will be.

Weaknesses: Back row. In a similar vibe to the above, if you had told me that Scotland's usual pillar of strength - the back row - would be a potential weakness in the side, I would have spat in your hair. But it's here that Vern Cotter has made some truly ballsy/bizarre calls. Out goes Blair Cowan, the man who snaffled the most turnovers in the Six Nations and an ever-present for Scotland over the last year, in comes John Hardie - a kiwi with experience playing for the Highlanders, who qualifies for his new country through his grandparents and someone who only touched down in Scotland for the first time 6 weeks ago. Out goes the talented, experienced and athletic John Barclay, to be replaced by Josh Strauss, the former Lions number 8 who only qualifies under residency on the eve of the World Cup. These guys might be quality players, but - at international level - who the hell knows? With no time to play together, it's a huge risk for Cotter to take and it's rumoured their selection over 'home-grown' (or at least established) talent has ruffled more than a few feathers...

Prospects: With the backline Scotland have now, and the Gray brothers doing the business in the engine room, there is no doubt that this is a side who can play with conviction and enterprise, but there are just too many what-ifs for me at the moment - and I certainly can't see them getting past the quarter-finals for the first time since 1991. As it is, that game against Samoa - kindly close to Scottish border at St James' Park - is looking to me like being the runner-up decider, with both teams due to go down with honours against South Africa. If Scotland get it together and put in the 80 minute display they've been threatening - as they did against Italy in their warm up game - they should be fine. But if we get another 20 minutes of promise and 60 minutes of mediocrity, I think we may be the Scots struggle to escape their pool for the second year running.


USA
Coach: Mike Tolkin. Classic All-American look - blonde-hair, cheesy smile....but there is nothing corny about this guy. He might not be well known this side of the pond but Tolkin has done a very decent job working for his country, even before his appointment to the top job in 2012. He was defensive coach for the 2011 World Cup where his side held Italy and Ireland to a respectable 20-something figures and Russia to just 6 points. Now in charge of his side, he's overseen a gradual improvement for the Eagles, but is it enough to make waves this tournament?

Captain: Chris Wyles. The Saracens man is one of the most underrated players in the Premiership in my book, an utterly fearless utility back who has a nose for the tryline. He's been one of the most consistent performers for Saracens and for his country, which has seen him given the captaincy after the big-hitting Todd Clever fell out of favour with the set-up.

Key Player: Samu Manoa. Who else? The USA don't have too many world class players in their ranks, but in Manoa they have someone who - on his day - ranks up their with the very best. He's always rather enjoyed levelling fly-halves or anyone who happens to stray into his eyeline, but over the last two seasons he's been contributing a lot more with the ball in hand too. Relentlessly physical, if the USA want to threaten an upset, they have to take the game to their more established opponents and show no respect - and Manoa is the man to lead them in that respect.

Watch out for: AJ MacGinty. A graduate from the renowned Blackrock College, MacGinty is an Irish born fly half who is starting to show real promise in the 10 shirt for the USA. He plays his club rugby for the ridiculously-named Life Running Eagles in the States, so he isn't used to the calibre of players he's likely to come up against during the tournament, but he has shown in qualifiers - and against Australia - that he relishes the challenge and can make things happen with his delightfully cultured boot. He's the kind of player that'll see the big stage as a chance to show everyone what he can do.

Strengths: Open field. The short version of the code has surged in popularity and success (they won the London Sevens) in the USA and the benefits are starting to flow through the 15-man game. With MacGinty pulling the strings and quality, experienced finishers like Blaine Scully, Wyles and Takudzqa Ngwenya (scorer of THAT try) out wide - along with plenty of less established players with USA Sevens experience - they have the capacity to cut teams apart on the counter or when the game starts to break up. Sadly, the fastest man in rugby Carlin Isles, hasn't made the cut...but there's enough pace there already I think.

Weaknesses: Set piece. The scrum has never been a particularly strong part of the USA's game and they suffered pretty badly at the hands of Australia - an improved, but by no means top-class, scrummaging outfit. Only Eric Fry (Newcastle) and Titi Lamositele (Saracens) ply their trade for professional clubs in Europe, and neither of them are what you would call regulars. Beyond that, there's Greg Petersen, Cam Dolan and Hayden Smith in the second row - but none have seen a lot of top level game time of late - and Manoa stands alone as the top pro at the back of the pack. Everyone in the USA has shedloads of talent, but without the professional structures to really hone the game's nuances, you sense they'll struggle in the set-piece against better-drilled sides.

Prospects: Despite the fact that only 11 of the Eagles' squad has previous World Cup experience, USA Rugby Supremo Nigel Melville says that this is the best prepared American team in history. And I believe him - there is excitement building around the game across the pond and rightly so, with rumours of a World Cup bid in the offing and a Sevens team with a real possibility of success in next year's Olympics. The problem for them is that they've only beaten one team in their group before - Japan, in their last meeting, and that was after a run of 5 consecutive defeats against their rivals. A promising first half against the Wallabies shouldn't be overlooked, but the Eagles are in a very competitive group and I have a feeling the Yanks may leave this year's showpiece with bit less yee-ha then they might have hoped for.