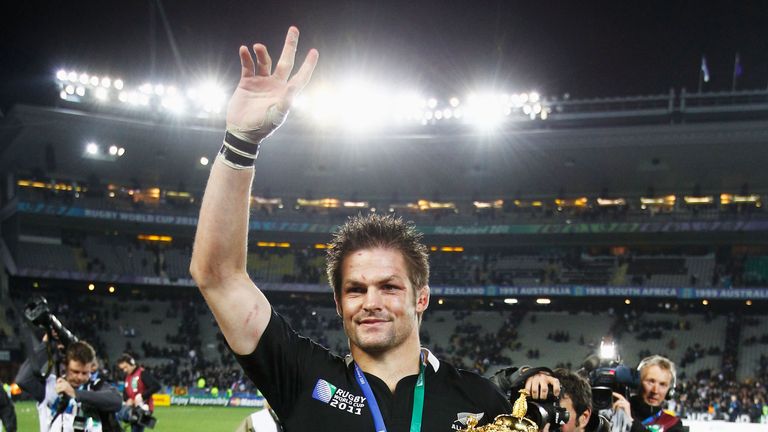 It's the eve of the eve of the World Cup and, it suddenly dawned on me that, despite some gloriously in-depth previews, I haven't actually put my money where my mouth is and made any firm predictions. And so, allow me to unzip my fly of foresight and put my plums on the table (metaphorically), and make the big calls for what's going to happen at this World Cup.
Winners: New Zealand. I may as well tuck the aforementioned plums back in. The All Blacks are still, by a stretch, the best side in the world. Cracks are appearing in their ageing team but they have the knowledge to never panic, and that ability and experience to make the right call when they need it most. I wouldn't be stunned to see them slip up in the semis, but I think it's more likely to see them retain their title. Which will be boring.
Dark Horses: Australia. A month ago, I'd have said Ireland, but the Aussies have gone from being text-scandal-plagued, boozy bunch of cretins who won just one of their last seven games in 2014, to looking very dangerous indeed. Playing Pocock and Hooper together is frankly unfair, and with Giteau shoring up the midfield and Folau arguably the best attacking back in World Rugby, I have no problem seeing Humpty Dumpty (Stephen Moore) getting his dirty mitts on the trophy.
Star Player: Israel Folau. As above, he's ridiculous. Outrageous step, great acceleration, a wonderful offload and a soaring leap - he's the complete fullback. Plus, he seems to thrive on the big stage, so he should feel pretty relaxed with 80'000 people screaming at him. Aside from him, I can see Louis Picamoles and Ben Youngs hitting form at the right time, too.
Emerging Star: Jesse Kriel. Has suddenly become undroppable in the South African backline, despite only having a handful of caps. With good pace, solid defence and deceptive strength, he's the answer to the Springboks' outside centre questions and, with little seen of him on the international stage, he'll win a few fans and surprise a few teams as well. Also watch out for Nehe-Milner Skudder, the jet-heeled All Black winger and our own Anthony Watson, of course.
Surprise Package: Samoa. They were incredibly unlucky to miss out in 2011 - they probably deserved to beat Wales but they were 'done over' by the World Cup scheduling team. With the Pisi brothers and Tim Nanai-Williams in the backline, a huge pack and a very, very violent back row, I reckon Samoa can make the knockouts for the first time since 1995. The Fijians are the definition of a 'banana-skin' too.
Flops: Scotland. This is very, very harsh, because I could quite easily put them into the 'surprise package' category - especially looking at their backline now. But Cotter's decision to drop established names for just-arrived imports is an odd one and makes them an unknown quantity - and I'm not sure that's a good thing. They'll play some bright rugby, sure, but it's apparent from the Six Nations that they still struggle to close out tight games.
Best of the rest: Japan. These guys will win some fans. They've got a much improved set-piece and a lightening quick set of backs and, from watching them pre-tournament, they've got a desire to play some good rugby. They won't make the knock-outs, but they'll tee themselves up nicely for hosting 2019.
Best shirt (OK, not a prediction, but I haven't commented on this yet): Argentina (alternate) strip. I thought their 'home' kit was nice, but look at the below. That is pure sex of the jersey variety. I also have a soft spot for the Scottish tartan number. Shoot me.
Worst shirt: South Africa. "You know what, I think it would look great if made it seem as if the players were all wearing bright yellow armbands", said no-one, ever, until the South African kit designers came along. And is that glitter on the front?! Atrocious. The Aussies' isn't much better - they've gone from gold to budgie-smuggler yellow with what looks like a tramp-stamp on one shoulder. Both made by Oasics by the way (against whom I have no vendetta).
Most likely referee catchphrase: "Oh no, Mr McCaw, that gate is for plebs. Please, use this side entrance.".
Pool A: England and Australia qualify. England unconvincingly stumble past Fiji, before impressing against Wales and squeaking past the Aussies. Wales disappoint against England but are superb against the Wallabies before being robbed by a last minute crap decision. Aussies could turn all the above on its head though (see above). Actually, so could Fiji. In hindsight, disregard the above.
Pool B: South Africa and Samoa qualify. South Africa are pushed all the way by Scotland in one of the games of the tournament before bludgeoning their way past everyone else. The Scots are left out when, exhausted from their efforts against the Boks, they are bullied by a very angry gang of Samoans. Vern Cotter punches someone.
Pool C: New Zealand and Argentina qualify. The All Blacks win everything, very easily. The Pumas also win everything, fairly easily, aside from their game against the champs, who beat them very easily. As above. Boring.
Pool D: France and Ireland qualify. France stutter past Italy and are unconvincing against the minnows, whilst Ireland build nicely. But then Les Bleus show up for the last game and ruin it for the Irish. Canada and Romania have a massive fight.
Quarter finals: England beat Samoa, Australia beat South Africa, New Zealand beat Ireland, France beat Argentina.
Semi-Finals: New Zealand beat Australia, England beat France
Final: New Zealand beat England.
What are your calls for the 2015 World Cup?