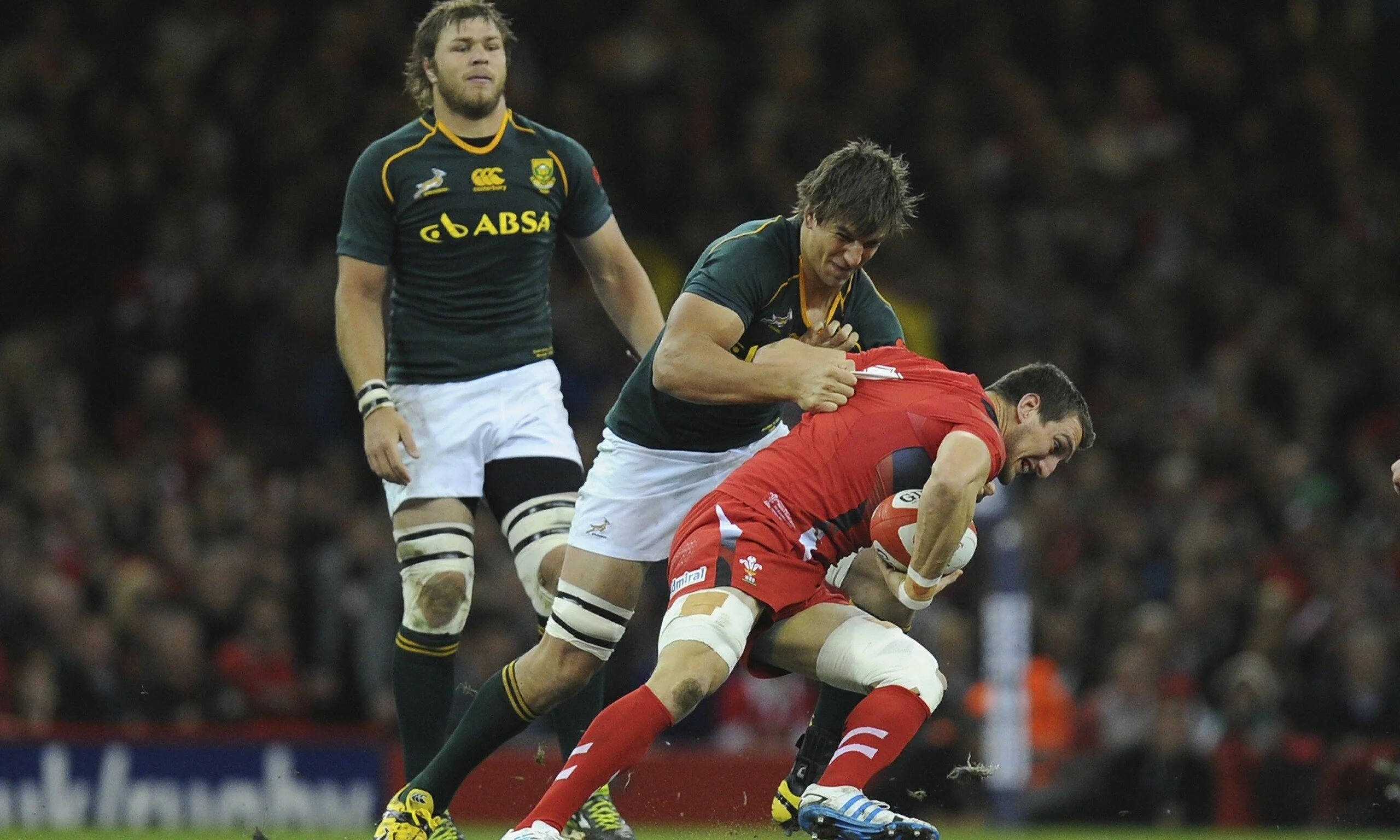 I'm not going to lie - this was going to be a comprehensive epic match preview about England's massive quarter final, and the fact that I don't get to write it (and you don't get to read it) is the real tragedy of the hosts crashing out of their own World Cup so early. So, instead of doing a thorough job on one match, I've done a half-arsed job on four.
Enjoy.
South Africa v Wales
Twickenham, 4pm
Not a bad way to get the weekend underway, really. The Welsh injury curse has shown no signs of abating over the last week, with Eli Walker called up for the crocked Liam Williams, and then promptly declaring himself not fit as soon as he got within sniffing distance of the Welsh camp. Interestingly, though, this curse seems to only be afflicting the backs at the moment - the pack is still looking pretty-much first choice and the selections of Dan Lydiate and Gethin Jenkins suggests that they're expecting a brutal battle in the loose. Which, against South Africa, makes sense. I have to say that the selection of Jenkins for Paul James is an odd one, especially as 'Melon' seems to have spent most of his scrummaging time reversing so quickly I'm surprised he hasn't started bleeping. Also, watch out for Tyler Morgan coming into the 13 shirt for the biggest game of his life. No pressure, mate.
Their opponents, the Springboks, haven't suffered the same problems with respect to injuries as their opponents, but they have had to overcome their own hurdles - namely, being crap. After coming bottom of the Rugby Championship and losing to Japan, though, the Boks have got angry - which is not ideal, if you're playing them. Their back row of Burger, Louw and Vermuelen is up there with the best in World Rugby and the back three of Pietersen, Habana and Le Roux have been at their wily, clinical best, with Habana now just one try away from being the World Cup's all-time leading try scorer and overtaking David Campese on the all-time international scoring charts. Not bad, really. The South Africans' focus primarily will be on the Welsh pack, who they need to squeeze off the park, in the tight - if they do that, they have the experience and the nous out wide to finish them off.
Key Battle
Handre Pollard v Dan Biggar. It looks as if Heneke Meyer has finally landed on his preferred choice of fly-half - and the man to potentially steer the South African backline over the next 10 years - after flitting back and forth between Pat Lambie and Bulls playmaker will all the decisiveness of the Grand Old Duke of York. Pollard offers a physical threat and superb awareness of his attacking options, but he can be tactically erratic with the boot - the exact opposite of Biggar, really. The Ospreys man has become renowned for moonwalking his kicks at goal with unnerving accuracy, but his decision-making against the Wallabies last week was well below par as they squandered a two-man advantage. These two need to take a leaf out of one-another's book to dominate - Pollard needs to control the game against a make-shift backline, whilst Biggar needs to take the chances when presented, because you suspect they will be few and far between.
Prediction
The Welsh pack still looks like a very decent - and physical - unit and, if they can handle the rather unsubtle approach of the Springboks, the men in red can be cautiously optimistic of causing an upset. As they showed against England, all they need to do is cling on within touching distance - via the boot of Dan Biggar - and they can make things happen. That said, the South African snowball is well and truly rolling now after that horror show against Japan and, with the back 3 in lethal form too, it's hard to see beyond the Boks for the win. South Africa by 6.
New Zealand v France
Millennium Stadium, 8pm
Without doubt, the fixture I'm looking forward to the most this weekend, perhaps more in hope than expectation. Millennium Stadium, Saturday night, a half-cut crowd and a French side who have been written off. Add in the rumours that Les Bleus have apparently conducted a mutiny against the coaches (of course they have, it wouldn't be a World Cup without one would it? Vive La Revolution!), and we seem to have the perfect recipe for a night of madness and potentially a huge upset.
Except, sadly, once you step back and have a look at the sides and their form, you have to accept that there's only so much that raw Gallic passion and the natural chaos of this fixture can do to influence the result, which - right now - seems inevitable. Both sides have been operating below their bests, but the All Blacks very much look as if they have been in control of that - you sense that they can go up through the gears when necessary - whilst the French have been floundering. Perhaps with Saint-Andre exiled, an expansive style seemingly favoured in this game (with Dumoulin selected instead of Bastereaud), and with Dusautoir (the destroyer of All Blacks on previous occasions) firing up his side into a fury, you can expect a furious opening 20 minutes - but if there's one side who will be able to absorb that before taking control, it's New Zealand. How predictable. But, then again, who the hell knows with this fixture.
Key Battle
Kieran Read v Louis Picamoles. There's little doubt that Read has been the premier number eight in World Rugby over the last 4-5 years and is probably the Kiwis' skipper-in-waiting, but we still haven't seen his best this tournament. And if there's one bloke in the French ranks who has been making a positive difference and pulling his considerable weight, it's the gargantuan Louis Picamoles. Picamoles is the sort of player who will need no invitation to get fired up for this encounter and, he'll be aware that, if he physically gets on top of one of the All Black leaders, there's an avenue for the French to follow. Read, though, is such a big game player that you expect he'll be waiting for the Toulouse-man, and he'll use every trick in the book to keep him at arms length.
Prediction
All the romanticists - and most of the neutrals - will be backing the French when the two sides take to the field, and I've no doubt that Thierry Dussautoir will have his side suitably well-boiled for this one. Some have commented that the All Blacks haven't really hit full stride yet, but I see that as ominous more than anything else - the French will come out firing, but you sense that the All Blacks have the experience and level-headedness to deal with anything Les Bleus can throw at them. Of course, logic often goes out the window in games between these two, but at this stage I'm confident we'll see an All Black victory. All Blacks by 12.
Ireland v Argentina
Millennium Stadium, 1pm
On the face of it, this one looks like being the tightest game of the lot. With the Celtic injury crisis now inconsiderately leaping across the Irish channel, the men in green have found two of their most physical presences cruelly struck down, in the hulking forms of O'Mahony and O'Connell. Obviously, the skipper is the biggest loss but both men are talismen; leaders who ooze aggression and refuse to take a backward step - otherwise known as a typical Munster forward. Their loss is huge for the pack, as is Sean O'Brien, who was at his bowling-bowl best against France last week but misses out because he decided to pat Pascal Pape's tummy a little bit too hard. The backline hasn't been able to completely avoid the curse either, with Johnny Sexton being passed fit - but you wonder if he'll be anywhere near 100%. And, given, the importance that the men in green place on their playmaker and his tactical-kicking game, that could be a huge factor.
The Pumas, on the other hand, have snuck into this quarter-final relatively under the radar, despite pushing the All Blacks all the way in their opening fixture and then cruising through the remaining games. I still get the impression that, for some reason, nobody particularly rates Argentina - despite the fact that they beat the Springboks in South Africa this year - or just lazily dismisses them as a 'scrummaging side'. If that's you, shut up before you embarrass yourself. With Lobbe and Matera in the back row, they have one of the most mobile and aggressive units around and their wingers, in the shapes of Imhoff and Cordero (who I will claim to having raved about 2 years ago in the junior World Cup) are electric. Without doubt, for me, they are dark horses in this tournament and they have form against the Irish in World Cups, beating them in 1999 and 2007. If you're expecting a solid Irish win, don't - this will go down to the wire. My advice: bring a change of underpants.
Key Battle
Chris Henry v Pablo Matera. Alright, so they're not strictly opposite each other, but you can guarantee that they'll be seeing a lot of each other over the course of the 80 minutes on Sunday. Both are energetic, mobile and aggressive flankers who are more than capable over the ball, but their real strength lies in being first to the breakdown in attack and smashing away opposition to ensure quick ball and continuity. It's almost a case of saying that whoever racks up the most yardage between these two wins their side the game. Also keep an eye out for the tag-team battle between Murray and Sexton against Sanchez and Hernandez in the tactical kicking stakes.
Prediction
I'm finding this one the most difficult to call. A week ago, I'd have said Ireland - but not by much. Now, with the injuries and bans, I think that Puma pack - which would have been a big test for the men in green anyway - will fancy their chances in both the loose and the tight and, when I look down the backlines (especially out wide), the South Americans just seem to have more game-breakers. A lot of it will come down to how fit Johnny Sexton really is - if he is 'Ben Youngs v Australia' fit (i.e. clearly still injured, but so important that the coaches have played him anyway), then the Irish will find themselves in a real scrap. This will be a belter and could go either way, but I'm leaning towards a scalp for the Pumas. Argentina by 2.


Australia v Scotland
Twickenham. 4pm
The interesting fact that I learned this week was that Scotland have beaten the Wallabies in 2 of their last 3 encounters, which is surprising when you consider most people would usually put these two at opposite ends of the Tier One scale. Admittedly, both of those wins came in torrential rain in games that made watching the X-Factor seem like a pleasant alternative, with Scotland scoring a grand-total of 9 points in both of their victories, but there should be hope for the Scots there. If this goes to an arm-wrestle, they can win. But, the truth is, I don't think they'll want to - for the first time the men in blue have a backline which actually has teeth and a fly-half with genuine vision, and they'll want to use it. They may have been pummeled by the South Africans in the group stages, but they've shown enough flashes of inspiration to give themselves a genuine hope in this game - rather than the usual unique brand of 'defeatist-optimism' usually sported by Scottish fans.
Unfortunately, they're playing a side who, at the moment, have shown all the qualities you would expect from a team gunning to be World Champions. Against England, clinical efficiency, wonderful vision and sublime execution - against Wales, brutal defence and resolute organisation, even when two men down. Even now that they've lost arguably their two best players in Pocock and Folau to injury, I wouldn't be overly optimistic of any team's chances against them. The trick for Scotland is to not give Foley an arm-chair ride - if they rough him up, slow down the Aussie ball, they have a decent shot. If they can't get to him, it's curtains.
Key Battle
Kurtley Beale v Stuart Hogg. OK, of course a battle in the pack will be more important, but this is more fun. I'll admit that I had hoped to write about Israel Folau in this paragraph, but Beale is hardly much of a step-down, is he? In fact, you could argue that he was the game-changer when he came on against England, where his speed and footwork - and the fact that he is yet another playmaker in the Wallaby backline - caused mayhem. He's opposite Stuart Hogg, a man who you could legitimately say has the measure of his illustrious opponents. The way these two have been playing - going for territory first - they will both have to be rock solid under the high ball first and foremost, but there will also be chances to counter-attack. They need to pick their times, and make them count.
Prediction
Don't get me wrong, I am a rarity for an Englishman - I have a lot of time for this Scottish side. They have some brilliant talent out wide for the first time in a decade, they can play some good rugby at times and they've still got that traditional snarl up front. But they're not in the class of the Wallabies on the evidence of this tournament - not by a long way. I think that the back-row is an area where Scotland (like most northern-hemisphere teams, to be fair) will be outclassed (even with Pocock now ruled out) and even the set piece will be put under pressure by the rejuvenated and newly-solidified Aussies. The kilt-wearers may take optimism from recent results (they've won two of their last three in turgid encounters) but this is a different animal altogether. Australia by 13.
So there you have it. An all-southern-hemisphere final is on the cards, meaning that we all have to smile and nod when we get that usual, arrogant drawl about northern rugby being pants.
@RuckedOver