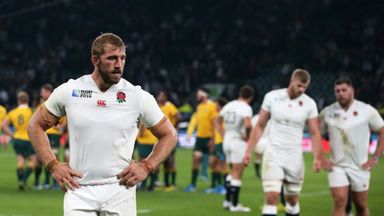 I've written some pretty galling articles on this blog over the last 2 and a half years - Wales' 30-3 demolition in Cardiff and Leicester's 45-0 loss to Bath spring to mind - but I always intended this World Cup to be my swan song for regular writing, for previews and reviews and the like. And part of me always hoped I'd finish on a glorious English triumph or - at least - on a crescendo of optimism for English rugby. It's safe to say that won't be happening when I do my 'fall-out' piece arising from this sh*t storm.
Going into this game, after the 15 minute debacle which cost them last week, England had their backs to the wall - but there was still a level of optimism. They'd played pretty well for most of their match against Wales and their opposition in their make or break encounter - against Australia - were a side they'd beaten in 4 of their last 5 attempts. And I can vouch that Twickenham was as loud and as energetic as I've ever heard it, as the teams emerged, with even Aussies commenting that the rendition of God Save the Queen was awe-inspiring. The hosts carried the hopes of a nation, but they should have been angry, confident and inspired. That's usually a good combination.
However, although England started with possession, showing positive intent, the explosive first 20 minutes they had promised never really materialised; rather than coming out firing, the hosts only managed to shoot themselves in the foot. From an early scrum around halfway, Ben Youngs only managed to chip the ball dead (although the lack of chaser didn't help) and Mike Brown made a hideous mistake of putting a toe on the touchline when fielding a smart, raking kick from Will Genia. Instead of looking fired up, the men in white looked under pressure - and from great field position, the Wallabies earned themselves a penalty which was slotted by Bernard Foley. First blood to Australia.
England, though, hit straight back, as Jonathan Joseph threatened to get on the outside of Tevita Kuridrani and then Anthony Watson nearly burst through, courtesy of a neat offload from Owen Farrell. Although the move broke down, it was promising for the hosts - and after they had won a penalty at the scrum, allowing Farrell to level the scores, the fans could be forgiven for thinking everything was back on plan; the outside backs were looking menacing, the scrum was on top and Farrell was looking as deadly as ever off the tee.
The Wallabies quickly put paid to that idea, however. After Folau has crashed through the English line two minutes following the restart, only to be brought down by a superb Mike Brown tackle, the men in gold set up camp in the England 22. Probing, never panicking and always threatening, a smart offload by Sekope Kepu drew in defenders and created an overlap on the right. With Ben Youngs drifting to try and cover the extra man and Joe Launchbury not able to provide inside cover, Foley threw a dummy to dart through a gap, step inside Brown and dive over for a trademark, brilliantly taken score. Foley added the extras and Twickenham was stunned - one thing they did not want to be doing was to be chasing the game against a team as dangerous as Australia.
It was about to get much worse, though. Although the hosts seemed to have most of the ball and appeared to be providing a lot of the threat, they were playing all their rugby around the halfway line. It meant that, although Joseph, Jonny May and Chris Robshaw all made good half breaks over the next 10 minutes, they were never in a position to threaten and, with Michael Hooper and David Pocock lurking, the Wallabies could afford to bide their time and wait for the opportunity to win a turnover or penalty. Sure enough, this happened twice - and although England repelled the first attack well, they then proceeded to get turned over in exactly the same manner around halfway again. I said before the game that, with Team Pooper lurking around, England could not afford to muck about around the halfway line - they had to play by the Wallaby 22. Nobody ever listens to me.
The second time the Aussies got intoning ding distance of the English line, they were ruthless. Once again, Foley was the architect and finisher, again spotting a shortage of numbers on one side and switching his run across the park to draw Ben Youngs and pop inside to Kurtley Beale (on for the injured Rob Horne), who returned the favour as Brown came to meet him. Foley was over again and, if you could see through the crowd of utter dread which now filled Twickenham, you had to applaud the brilliance of Foley once again. The cynical man in me thought that Youngs could perhaps have tackled Foley even though he had passed the ball, but the bottom line was the the Wallabies were too slick, too smart, too good, and they deserved the 17 - 3 lead they took into the break.
England had a mountain to claim and started the second half brightly, thanks in no small part to the fact George Ford was now on in place of Jonny May. Ford's sharp hands were creating room but, with a midfield of Farrell and Brad Barritt, they missed some of Joseph's penetration as he was shunted to the wing, and eventually the visitors forced a turnover, again, to clear their lines and begin their own attack - which, again, proved fruitful. This time the points came courtesy of a Foley penalty, and the source was not something that was predicted before the game. Kepu had been annihilating Joe Marler in the scrum for most of the first half, and he forced the loosehead to angle in again here to earn the shot at goal. 17 points down, a dominant Wallaby scrum? This wasn't in the script.
Perhaps what was in the script, though, was a stirring England comeback. You know, a 'one for the ages' kind of thing - because that's what it was going to take to get into this game. Again the hosts attacked with greater urgency, and again they were met by a Wallaby wall of steel, reinforced by the superb Kane Douglas and Scott Fardy, as well as the Pooper combination. Ford was stretching them though and, after Joseph went close - only to be denied by a Foley knock on - they eventually did get over the whitewash. Again, Ford was the man who pulled the trigger, finding Launchbury in space, and quick hands by the lock gave Watson the space he needed (not much) to burst between two defenders and score a superb try near the corner. Farrell slotted the extras, and maybe now it was game on.
It certainly felt that way, because the Wallabies looked rattled. Tom Youngs, who had been brutally impressive with and without the ball all game, nabbed a turnover of his own and Nick Phipps, who had replaced Will Genia at scrum half, seemed intent on throwing the ball anywhere where there wasn't a green and gold shirt. Farrell took advantage of a penalty that came courtesy of the chaos and suddenly the hosts were back within a score. There was concern amongst the Australian fans and players alike now - "I've got a bad feeling about this", said my Aussie chum sat next to me.
He needn't have had anything to worry about though. Just as England were looking calm and collected, as if they were waiting for their time to strike with 13 minutes to go, it all went wrong. From an Australian scrum, England forced a turnover in midfield and hacked the ball down towards the other end of the field, with the crowd going bananas - only to be silenced as the TMO showed that the turnover came courtesy of a high shot from the newly-introduced Sam Burgess, giving Foley a penalty to make it a 10 point game again. It was made worse by the fact that, in the same motion, Farrell and cleaned Matt Giteau out without the ball and was, arguably harshly (given how quickly it all happened), shown a yellow card. You could audibly hear the winds of hope die from the English sails.
Now Australian sportsmen aren't always known for being particularly sympathetic towards their English counterparts (not that I blame them) but the final 5 minutes were especially cruel. The Aussie scrum once again humiliated the English pack to give Foley another 3 points and then, from yet another turnover, the Wallabies attacked the space on the other side of the pitch, allowing Adam Ashley-Cooper to put Matt Giteau in for the try, and the final nail in the English coffin.
It was brutal but brilliant from the Wallabies. Far from the frustration of last week, where England let a game go in the last 15 minutes, this was a case of acknowledging that - for the vast majority of the game - they had been outclassed by a team who were 10% better in every department...even areas where England were supposed to dominate, such as the scrum, and areas where they had previously looked flakey, like at halfback - where Foley delivered one of the great opposition fly half displays at Twickenham.
For England and their fans, which include myself, there can only be despair and a sense of huge deflation that, after a 4 years of build up, shoots of promise and false dawns, they'll be reduced to mere spectators over the coming 4 weeks.
The dream is dead, but the show must go on.
NB. There was an unbelievable atmosphere and some good banter between fans on Saturday, but one point of disappointment was the booing at various stages. Whether it was a futile attempt to put off Bernard Foley, or the jeering of Stuart Lancaster at the end - a man who (whilst spectacularly unsuccessful) was clearly broken at what he had just witnessed - lacked class all round. Let's not carry on down this football route.
England Player Ratings
1. Joe Marler - 4 - Obliterated by the magnificent Kepu in the scrum, and not for the first time in recent memory. A year ago it looked as if his scrum demons had been put to bed but, on the latest evidence, he's back to square one.
2. Tom Youngs - 8 - The questions about his scrummaging will remain but he deserves a shot with a more established loosehead on basis of his other play. He was one of England's best carriers, tackled his socks off once again and the lineout was much more secure.
3. Dan Cole - 5 - Ended with honours even against Scott Sio, but he would have hoped for more than just parity in the scrum. We also haven't seen much of his renowned ability over the ball for a while and, boy, did England need that on Saturday.
4. Geoff Parling - 6 - Full blooded commitment once again from Parling but he was outplayed on the whole by Simmons and Douglas. He runs a slick lineout but unfortunately his brute force was found wanting in the tight.
5. Joe Launchbury - 8 - Can walk away with his head held high after an all-action effort, although the critical might point out that he didn't react quickly enough for Foley's tries. Aside from that, his hands were soft and his carries were hard, belying his cherub-like features.
6. Tom Wood - 6 - He's impressed me this season with his willingness to carry, which was always a weakness previously, although he did it to good effect on Saturday. Against the Wallabies, being tough and enthusiastic wasn't enough - without the ball, he lacked the guile to slow the Australian ball down properly.
7. Chris Robshaw - 4 - It hurts me to say it as I've always been a Robshaw fan, but he was shown up badly at Twickenham. Of course, the breakdown is not solely his responsibility but, in the biggest game of his career, I expected him to deliver a typical Robshaw performance - where he tops the tackle, carry and offload charts, making him effective even if he doesn't have the breakdown presence of Pocock or Hooper. Instead, he seemed overawed and afraid to try and play his game, potentially signalling the end of his captaincy reign.
8. Ben Morgan - 5 - We all know that, on top form, Big Ben is top notch, but he was short of his best once again on Saturday. I said before that if he carried a lot, and carried hard, England could have a source of front-foot ball to make the Wallaby's back row struggle to compete. He didn't carry enough, and he didn't carry hard enough.
9. Ben Youngs - 5 - He clearly wasn't match fit. When he wasn't running, he was hobbling and, although the pack didn't give him a great platform, his passing was erratic under pressure. A couple of promising darts in the first half helped build momentum, but it didn't last for long.
10. Owen Farrell - 5 - Faultless off the tee again and got off to a great start with a cracking offload to build an English attack. But after that his kicking from hand was below par and his reckless yellow card put the nail into the coffin of English hope. The thing with Farrell is that, off first phase ball, he is as good as anyone at executing a move - but, when playing off the cuff, he lacks the threat or timing of most international fly halves.
11. Jonny May - 6 - Looked dangerous in patches on the wing and can be relatively pleased with his tournament, although he was forced off at half time with a hamstring strain. Didn't get the space needed to really cut loose.
12. Brad Barritt - 4 - When he was injured he somehow gained reputation and status, but once again his deficiencies were shown up in attack - one metre per carry is not enough for any centre. His tackling was as exemplary as ever, but his time in the English midfield has surely come to an end.
13. Jonathan Joseph - 7 - A good return for the Bath man and one of the few Englishmen to actually outplay their counterparts. Looked sharp on the outside break and made plenty of metres in the wider channels without fully being able to break free.
14. Anthony Watson - 8 - Superb finish for his try when he simply had no right to score and generally looked menacing all night. One crap into touch, however, won't sit particularly well in the memory.
15. Mike Brown - 6 - Made a howler in the first few minutes to give the Wallabies great field position but then recovered with a clattering tackle on Folau to prevent a try. Kicking wasn't great but carried with purpose again.
Subs - 5 - Most of them didn't help, but Ford certainly picked things up in the backline, varying play beautifully and reminding us what we'd been missing. Everyone else, however, couldn't help drag England back into the game and most made more mistakes than positive contributions.